You will receive all of our wall art professionally stretched on wooden frames. Find your stretched canvas art here.
We only sell readily stretched canvas art. All of our wall art is ready to hang on your wall.
Multi-panel stretched canvas art
Modern paintings with mosaic effects belong to our most popular stretched canvas art. buy wall art in our shop.
Stretched canvas art - exceptionally beautiful
Contemporary wall art with our own motif design available in our shop. Large wall art and stretched canvas art can be found here.
Printed stretched canvas art and much more
Amongst our most appreciated modern prints and wall art are our film-based comic prints, i.e. from original film material. On stretched canvas art, you can now introduce some "cineastic" atmosphere into your home.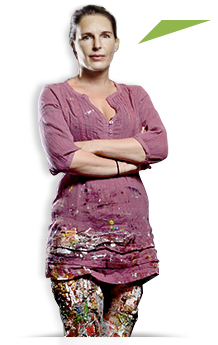 Stretched canvas art
Our hand painted and printed stretched canvas art
All of our wall art, be it hand painted or printed, is stretched on wooden frames. We only offer the highest quality. Over the course of time we have developed and improved our manufacturing process. For our stretcher bars we only use high-quality and sufficiently dried wood. A common problem with many woods concerns insufficient drying time. In such cases the wood may shrink due to its slower loss of humidity, and thus "warp" the canvas, resulting in unattractive wrinkles. If one purchases ( from a another producer ) a piece of wall art with inferior woods, the wrinkles will only appear several weeks after the painting is already hanging on the wall. Returning your merchandise after such a long period may be a difficult process. Avoid these problems and buy right away from professionals. Decide for large canvas art from PaintingsXXL. However, if you are already experiencing these problems with another piece of wall art, we can provide you with tips and advice on how to repair your paintings - no matter whether you are a customer with us or not. We have provided an overview concerning the most common problems and fitting solutions: FAQ
The following selection features some of our stretched canvas art.
Buy stretched canvas art in these formats
Use of special paints and varnishes
Stretched canvas art in any format you desire
Stretched canvas art - similar topics
Buy stretched canvas art and take advantage of our exceptional service
Pay Cash on Delivery or by PayPal - all wall art and stretched canvas art will be delivered to your home for free. You cannot only buy wall art in our shop, you can also get your customized wall art in any colour and format you desire.
Stretched canvas art - for a modern living room interior
Our stretched canvas art will bring a special touch to your living room. Here you will find modern paintings as well as large wall art.
Choose from many different motifs
Popular stretched canvas art with abstract motifs
Our abstract stretched canvas art brings an exceptional liveliness to any room. Get your living room wall art here.