Modern and abstract wall art - buy comfortably online and take advantage of our free delivery.
Webshop for exceptional wall art in various styles - hand painted, printed, or from a photo.
Hand painted wall art in various styles
Here you will find wall art in many different styles. Modern paintings and large wall art that we manufacture for you.
Exceptional wall art for your home
Obtain your own exceptional piece of large canvas art in our online shop and let it be delivered to you free-of-charge.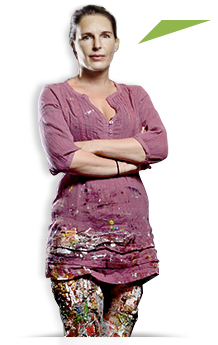 WALL ART
What is wall art?
Actually, wall art can be any piece of art that is either hung on a wall or applied to its surface. Any painting, poster, print, fresco, mural, or graffiti can count as wall art. However, we have specialized in producing modern paintings and prints which are applied on canvas and stretched on wooden frames. We at PaintingsXXL categorize our wall art as(1)hand painted wall art and (2)modern art prints. All of our wall art - be it hand painted or printed - is applied on professional artist's canvas and carefully stretched on high quality wooden frames. The picture always extends to the sides of the canvas, making it ready to hang on your wall. You do not require an additional frame. Do you have any questions regarding our wall art? Here you can find some examples of our paintings and prints. Or click at the images below for a complete overview.
Browse this selection of wall art and find the right one for you.
Wall art in different formats
impressive hand painted wall art
contemporary paintings of modern artists
single or multi-panel prints from your photos
Wall art - similar topics
Wall art that comes with an exceptional service
Large canvas art for your living room will reach you quickly and free of charge. We also offer free return coverage, should you be unsatisfied with your purchase.
Check out our video to catch a glimpse of some of our daily routines.
Choose from many different motifs
Up-to-date abstract wall art
Buy wall art in our webshop. Our current delivery time is 2 working days only.