Get your modern wall art and hand painted paintings here at PaintingsXXL.
All of our wall art is on stretched canvas, and is painted by contemporary artists.
Hand painted modern wall art
Modern wall art designed by Nick and Luise will suit any interior. You will find modern paintings in our online shop.
Modern wall art - exceptionally different
Our wall art is painted exclusively for you and each painting has a special touch. Buy paintings online in our shop.
Modern wall art, high-quality art prints
Especially our comic prints of films experience a quickly growing fan base. Exclusive modern wall art can be found in our shop.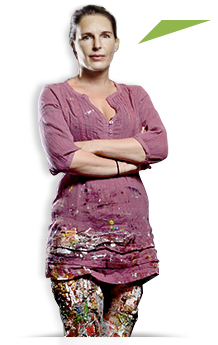 MODERN WALL ART
Are there also classic paintings?
All wall art in our shop is of contemporary style. We only sell modern paintings and modern art prints, and neither paintings nor motives of classic artists. We as artists take pleasure in playful designs and paintings techniques. The team of PaintingsXXL has set itself the goal of designing and manufacturing only modern wall art and the multitude of positive feedbacks of our customers endorse the course we have chosen. Take your time and browse our shop and you will find the right piece of wall art for your room.
The following selection gives you a small overview of the modern wall art we offer. Feel free and browse our shop.
Modern wall art in different formats
protection against damage and dust
modern abstract wall art in our webshop
high-quality paintings of the artists Luise and Nick
Modern wall art - similar topics
Modern wall art with an exceptional service
In our workshop we can produce wall art in any format you desire. You can get large canvas art as single or even up to 5-panel format. Modern wall art and living room wall art can be found in our webshop.
Modern wall art for a classy interior.
Be it structure and mosaic effects, or floral motives - our wall art will intrigue you. paintings living room and modern wall art can be found in our shop.
Choose from many different motives