Browse our shop for modern paintings and you will certainly find the right piece of wall art for your home.
Find modern paintings, printed and hand painted wall art here, or obtain an art print from your own photo.
Modern paintings for extraordinary rooms
Give your rooms an individual and extraordinary touch and make use of our wall art and modern wall art from our shop.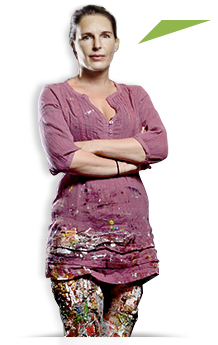 MODERN PAINTINGS
Our NINE most popular modern paintings
Get inspired by our NINE most appreciated modern paintings. These pieces of wall art belong to our most recent and valued products and have been selected from different categories. Here you will find modern paintings, hand painted wall art, as well as some modern art prints. Just let your imagination "take off", maybe you will even find the right piece of wall art right here. All of our modern paintings, hand painted wall art, and modern art prints are stretched on a wooden frame and are ready to hang. The image always extends to the sides of the canvas, so no additional frame is required.
The following selection features some of our modern paintings.
Modern paintings in different formats
Wall art hand painted with acrylic paints
modern art prints on stretched canvas
only seller of comic prints of films
paintings by Luise Zantopp and Nick Santoro
Modern paintings - similar topics
Modern paintings - exceptional/unique service
Order our wall art by phone or buy paintings online. We also offer free delivery and if you should not be satisfied with your purchase, you may also return your wall art with no costs involved.
Living room wall art and other modern paintings
Our offer includes large canvas art, modern paintings with abstract motifs, and many other formats and styles.
Choose from many different motifs
Modern paintings bring life to your home
Abstract modern paintings can convey many different feelings and create an outstandig atmosphere in every room. Get your paintings living room and large wall art here.